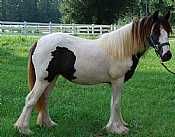 Gina
2009 Filly
Sire: SD Laddie
Dam: Royle Princess
On the 26th of May Royle Princess had a beautiful filly and we named it Gina. Princess was found in labor around 1pm!! Seeing that she was exhausted I had to pull the foal. Looks like she was a little too big!! Both are doing well and are in the field with Laddie. She is a very sweet black and white filly!!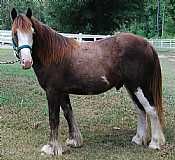 Hunter
2009 Gray Gelding
Sire: SD Laddie
Dam: Gracie
Foaled on the 31st day of May 2009, Gracie was spotted laying in the field. After taking closer look we found a little colt. Totally grey with a white face. What a cutie. He is the last foal for 09 and we are glad to have him and also glad that this foaling season has come to an end. He has been gelded and is under saddle and doing great. He is sound with no bad habits and responds well to his training.
Katlyn
2009 Filly
Sire: SD Laddie
Dam: Marlita
Beautiful Black and White Filly. What fun she is in the field!! She is short and compact with great bones and hair. She has Laddie's build and is well made in all respects!!